Honourable Chief Minister, Himachal Pradesh Launches StreeSurakasha Mobile App
Ajay Singh Chahal, Himachal Pradesh
ajay[dot]chahal[at]nic[dot]in
|
Oct 7, 2017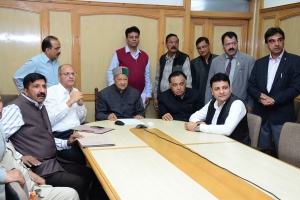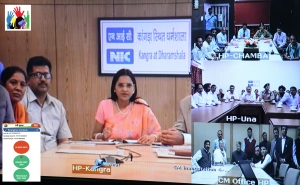 Sh. Virbhadra Singh, Hon'ble Chief Minister, Himachal Pradesh launched the StreeSurkasha Mobile App, online from Shimla on 4th October 2017. Speaking on the occasion, the Hon'ble Chief Minister hoped that the mobile app will achieve its objective of helping the women in case of any emergency situations. Sh. Arvind Mehta, Additional Chief Secretary (Home), the Divisional Commissioner, Kangra, Deputy Commissioners and Superintendants of Police of Chamba, Kangra and Una Districts, SIO NIC HP and other officers were present on the occasion. Hon'ble Ministers of Transport, Industry, Urban Development, OSD to CM, Principal Secretary to CM were also present.
Ms Nandita Gupta, Divisional Commissioner, Kangra Division is the brain behind the development of this help, specifically for the women, who may face some kind of distress situation. She explained the objective for developing this mobile app to help the women by facilitating a simple to use interface on their smart phones. Even those women who do not have smart phones may use the 181 Helpline directly.
The StreeSurakasha Mobile App, which has been developed for the women, is available on Android platform and can be downloaded from the Google Play Store. The women / user, have to select their residential location, mark their three preferred contacts to be informed in case of emergency situation, language of App and sample SMS message to be sent. And in case of emergency, the Panic button is to be pressed. The police control room of relevant district in Chamba, Una or Kangra will be informed along with the GPS location of the user and action initiated accordingly. Locally, the  App will produce an Alarm sound and the Video recording of situation will be made automatically.
The advantages of StreeSurakasha Mobile App are:
Easily available on Android
Helpful in  emergencies
Easy to use: just one button to press (large Red blinking Panic button)
Automatic evidence recording through the smart phone  (audio/video)
GPS-location to Police/Relatives
Facility to withdraw SMS in case of false alarm
Local record in phone of all emergencies
Bilingual, Easy to Use, Helps women!
The App has been designed and developed as per suggestions of the Divisional Commissioner, Kangra by the NIC Competency Centre for Mobile Development, Shimla.