Showing 1 to 10 of total 423 items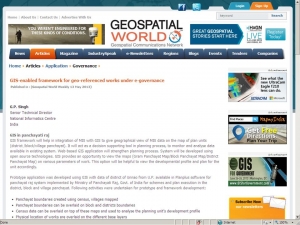 A paper titled 'GIS-enabled framework for geo-referenced works under e-governance' contributed by Shri G.P. Singh, Senior Technical Director, Director, National Informatics Centre, U.P. State Unit, Lucknow has been published in May 2013 issue of Geospatial World Weekly. The paper details the GIS framework that can help in integration of MIS with GIS to give geographical view of MIS data on the map of plan units (district /block/village panchayat). The study presented in the paper
...
Anshu Rohatgi, Uttar Pradesh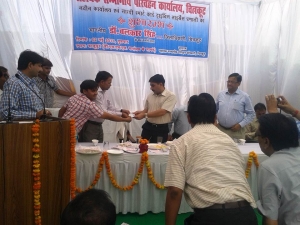 Smart Card based Driving License system was inaugurated at ARTO Chitrakoot on 2nd May 2013 by Dr. Balkar Singh District Magistrate, Chitrakoot Uttar Pradesh. The district is in the Seventh and last phase of SCDL Implementation in Uttar Pradesh as planned by the UP Transport Department. Senior functionaries of transport department Shri Uday Ram ARTO and Shri Anil Mishra RTO Banda were present during the inauguration. The system restricts the issuance of fake and duplicate DLs as the applicants
...
Anshu Rohatgi, Uttar Pradesh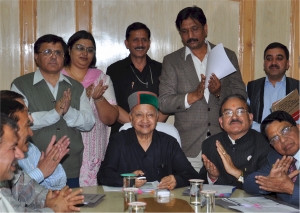 The Honourable Chief Minister Himachal Pradesh, Sh. Virbhadra Singh, launched the Extended Licensing and Laboratory Node (XLN) Software on 8th May 2013 at Shimla under the rapid replication roll out initiative of the Department of Electronics and Information Technology, Government of India, through NIC Gujarat and NIC Himachal Pradesh. Speaking on the occasion, the Chief Minister, expressed the hope that the software will help in cutting down the approval times and functioning of the Department
...
Ajay Singh Chahal, Himachal Pradesh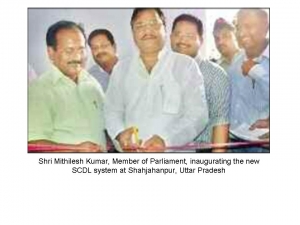 Smart Card based Driving License (SCDL) was inaugurated at ARTO Shahajahanpur Uttar Pradesh by Shri Mithilesh Kumar, Member of Parliament and Shri Raj Mani Yadav, District Magistrate Shahjahanpur. The district is in the seventh and last phase of SCDL Implementation in Uttar Pradesh as decided by the UP Transport Department. The first SCDL of the district was issued to Shri Mithilesh Kumar. Senior functionaries of the transport department Shri Shikhar Ojha, ARTO Enforcement and Shri R.P Gangwar,
...
Anshu Rohatgi, Uttar Pradesh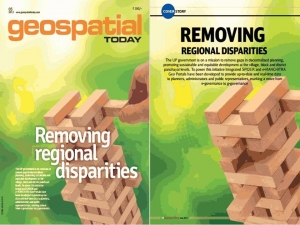 'Removing Regional Disparities' – an article contributed by Dr L.R Yadav, Senior Technical Director and Shri R.S Singh Principal System Analyst, NIC, Lucknow was published as the cover story in one of the leading magazines of GIS in India - 'Geospatial Today'. The magazine is mainly focused on publishing innovations in geospatial sector and always highlights projects that have remarkably changed the working methodology using GIS tools and impacted the citizens in
...
Anshu Rohatgi, Uttar Pradesh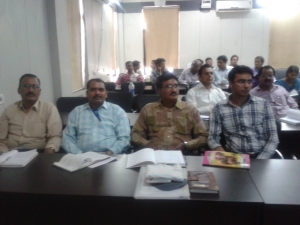 Two days' Capacity Building Programme (CBP) on Immigration, Visa, and Foreigner's Registration & Tracking-Mission Mode Project (IVFRT-MMP) was organized on 3rd and 4th May 2013 at Police Head Quarter (PHC), Raipur, Chhattisgarh. The Capacity Building Programme was formally inaugurated by Sh. Sanjay Sharma, AIG (Special Branch), PHC, Raipur. In his inaugural speech, he briefed the importance of IVFRT-MMP and gave necessary instructions to expedite the works related to infrastructure
...
N.K Prasad, Delhi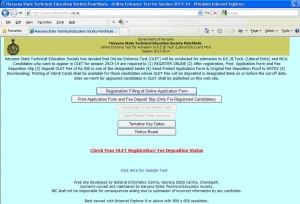 The On Line Entrance Test for MCA and B.Tech (Leet) was launched for the academic session 2013-14 on 24th April 2013 after taking approval of the Project Evaluation Committee of NIC. The project is jointly implemented by NIC, NICSI & HSTES (Haryana State Technical Educational Society) and a tri-party MoU is signed. The project has 2 parts. First part is web-based, executed through http://onlinetesthry.nic.in/ facilitating the candidates for online registration, submission of choices of
...
Poonam Gupta, Haryana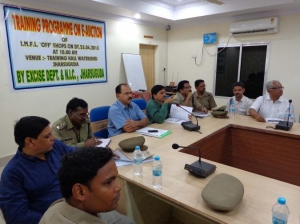 One day Training Programme for Bidders of Jharsuguda District on eAuction of IMFL 'OFF' Shops was conducted on 23/04/2013 at Training Hall, Watershed, Jharsuguda. Shri Uttam Kumar Meher, Superintendent of Excise, Jharsuguda addressed the participants and explained importance of the project. About 50 perspective bidders attended the training programme. He insisted for active participation in the training programme for clear understanding and successful implementation of the
...
A. K. Hota, Odisha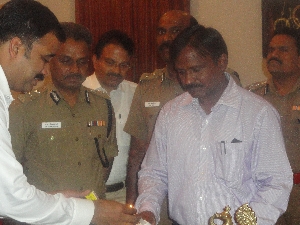 Immigration, Visa, Foreigners registration and Tracking (IVFRT) system was launched for Tamil nadu districts at Coimbatore on 22/04/2013. It is a Mission mode National e-Governance project of Govt. of India to provide the high standard of integrated Visa and Immigration services for the visiting foreigners to India and the Immigration services for citizen of India travelling abroad. With a brief note on IVFRT the welcome address was presented by Sh. R.Kuppusami, PSA, NIC-IVFRT, Chennai,
...
R.Gayatri, Tamil Nadu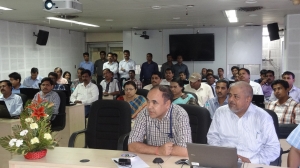 With the firm decision of Government of Odisha to go ahead with the allotment of licenses of about 1400 IMFL off shops and CS shops through eAuction platform of NIC, a one day workshop was conducted in NIC Bhubaneswar for District Informatics Officers of Odisha on 25th April 2013. The workshop was a joint effort of NIC Odisha and Excise department, Government of Odisha with the objective of imparting training to DIOs on eAuction process and domain knowledge on excise procedures so that the DIOs
...
A. K. Hota, Odisha
Search Online News