Showing 1 to 10 of total 853 items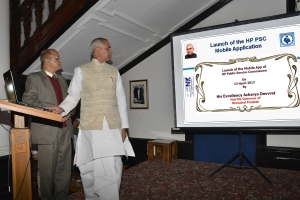 His Excellency, Acharaya Devvrat, Hon'ble Governor of Himachal Pradesh launched the Android based Mobile Application of the HP Public Service Commission on 13th April 2017 at Shimla. The Hon'ble Governor, in his speech, emphasized the importance of new technologies for the younger generation and they must be provided with more such ICT solution in their hands. He said that the Mobile App has special importance in a State like Himachal where road connectivity and postal reach is hampered
...
Ajay Singh Chahal, Himachal Pradesh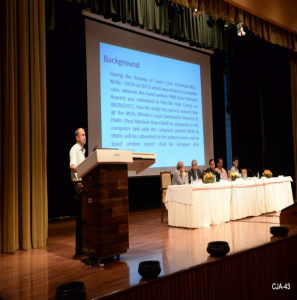 Chandigarh Judicial Academy for Punjab and Haryana invited Mr Rahul Jain, Scientist-D , NIC-Haryana to deliver a lecture to sensitize the Judicial Officers , Doctors and Investigation officers of Punjab , Haryana and Chandigarh on FSL-MedLEaPR( Forensic Science Laboratory and Medico Legal Examination and Post Mortem Reports), a Project developed by Health Informatics ,NIC-Haryana and implemented in Punjab, Haryana and Chandigarh under direct monitoring of Hon'ble High Court, Punjab and Haryana.
...
Deepak Sawant, Haryana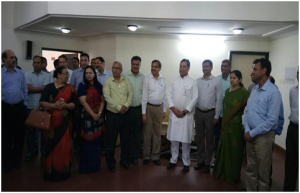 Capt. Abhimanyu, Finance Minister, Haryana hosted a high tea at Haryana Niwas Chandigarh for the officers of Finance Department and NIC Haryana State Centre involved in preparation of budget preparation exercise for the Financial year 2017-18. SH. Sh. G.S. Bansal DDG & SIO Haryana along with NIC Finance Department Cell comprising of Sh. Deepak Bansal, Sr. Technical Director, Sh. Virender Trivedi, PSA and Sh. Jagdish Lal Mehndiratta SSA were also present . Speaking on
...
Deepak Sawant, Haryana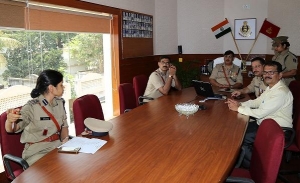 The website of Angul District Police (Odisha) (http://angulpolice.nic.in) was inaugurated by Shri K. B. Singh, IPS, DG & IG of Police, Odisha on Dt-01.04.2017 at his Chamber at Police Headquarters, Cuttack on the eve of Odisha Police Formation Day and Utkal Divasa. Speaking on the occasion Shri Singh expressed satisfaction over the timely launch of the website when the entire state is geared up for Utkal Divasa. He is of the opinion that this website will help the citizens for
...
A. K. Hota, Odisha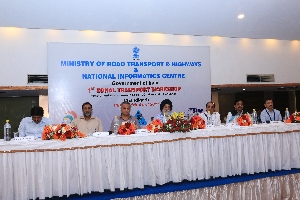 Ministry of Road Transport & Highways and NIC jointly organised the "1st Zonal Transport Workshop – Implementation of eChallan and mParivahan" at Hotel Mountview, Chandigarh on 10th and 11th April 2017. The event was hosted by NIC Chandigarh UT Unit, in coordination with NIC Haryana, NIC Punjab and NICSI Chandigarh. The delegates were from Transport Department, Traffic police and NIC from 12 States/UTs namely J&K, HP, Punjab, Haryana, Chandigarh,
...
Vivek Verma, Chandigarh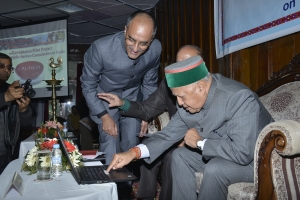 Sh. Virbhadra Singh, Hon'ble Chief Minister of Himachal Pradesh launched the eGovernance Pilot Project of the HP State Public Service Commission on 10th April 2017 at Shimla. Speaking on the occasion, the Hon'ble Chief Minister expressed the hope that the project will benefit the youth of the State by bringing more transparency and online services while applying for Government jobs. Sh. K.S. Tomar, Chairman of the HP State Public Service Commission, informed that the eGovernance Project
...
Ajay Singh Chahal, Himachal Pradesh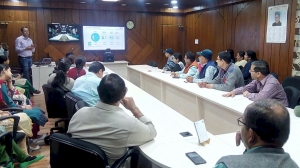 In order to promote cash-less or digital modes of making payments, a series of Awareness programs were organized in HP Secretariat, Shimla by the NIC State Centre, Shimla for the employees of the HP Government. These awareness programs were held from 20th March to 29th of March 2017 in the high-tech Video Conference-cum-Training Room set up by NIC in the HP Secretariat. Sh. Shailender Kaushal, NIC Coordinator organized these short-duration awareness programs using audio-visuals, displaying
...
Ajay Singh Chahal, Himachal Pradesh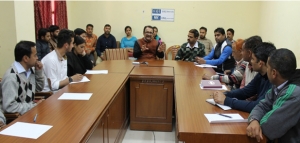 A workshop-cum-training program on Aadhaar seeding in Land Records was held for the officials of the Revenue Department in District Una, by NIC District Unit on 17th March, 2017. Sh. Vikas Labroo, Deputy Commissioner, Una chaired the training session and directed the officials to collect Aadhaar number of land owners in their respective villages within one month by 15th April, 2017 and start seeding in land records through laptops/net-connectivity available with them or by visiting their tehsil
...
Ajay Singh Chahal, Himachal Pradesh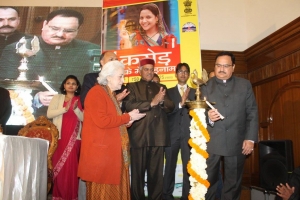 The Digidhan Mela to sensitize and train the citizens on using cashless modes for making various types of payments was held on 19th March 2017 at Shimla. Honourable Union Health Minister, Sh. J.P. Nadda was the chief guest. Smt. Vidya Stoke, Minister for Information Technology, Himachal Pradesh was guest of honour. Sh. Vinay Thakur, Director, eGoverenance represented the Ministry of Electronics and IT, GoI. In his address, Sh. J.P. Nadda, the Honourable Union Minister for Health, said
...
Ajay Singh Chahal, Himachal Pradesh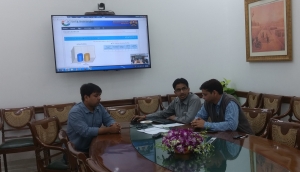 eSamikSha, an online Monitoring and Compliance Mechanism has been developed by Cabinet Secretariat Informatics Division, to fast track the compliance of pending action points, proposal, targets, etc. of various Ministry/Department/Organization/Agency of Govt. of India and Government of States and UTs. The Portal has been designed in such a way that it will enhance efficiency, bring transparency, reduce the need of protracted correspondence and improve the communication between Government
...
Dr. Shubhag Chand, Delhi
Search Online News