News
Showing 1 to 5 of 1009 records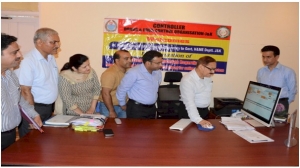 Jit Raj, Jammu and Kashmir
jit[dot]raj[at]nic[dot]in
|
Aug 16, 2018
SRINAGAR, Aug 13: Principal Secretary Health & Medical Education, Dr Pawan Kotwal launched online licensing system for obtaining drug license and its renewal of retail sale and wholesale establishments. Drugs & Food Control Organization (D&FCO) J&K in cooperation with NIC's XLN...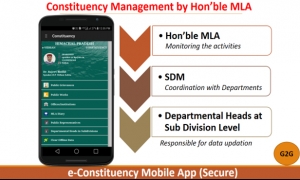 Sandeep Sood, Himachal Pradesh
sood[dot]sandeep[at]nic[dot]in
|
Aug 8, 2018
Himachal Pradesh Vidhan Sabha in association with NIC has organised 14 Workshop cum Training Programs on e-Constituency Management since 7th May 2018 covering 18 Assembly Constituencies of Himachal Pradesh. These programs were organised at various sub-divisions covering all the 12 Districts in the...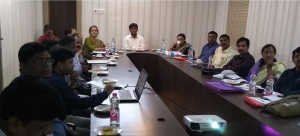 A. K. Hota, Odisha
ak[dot]hota[at]nic[dot]in
|
Aug 2, 2018
Deputy Director General & State Informatics Officer Smt Pratibha Singh along with Dr. A. K. Hota, STD & ASIO visited Koraput district NIC Centre and reviewed the implementation of various projects in the district. She interacted with FMS personnel and looked into infrastructure availability...

A. K. Hota, Odisha
ak[dot]hota[at]nic[dot]in
|
Aug 2, 2018
On 28th May 2018, Shri Chandra Sarathi Behera, Honourable Minister of Electronics & IT, Govt. of Odisha launched the Secure, Scalable and Sugamya bilingual district portals of Odisha in the august presence of Shri Ravi Shankar Prasad, Hon'ble Union Minister, Electronics & IT, Law &...

A. K. Hota, Odisha
ak[dot]hota[at]nic[dot]in
|
Aug 2, 2018
The Start-up programme of Kendrapara Credit Co-operative Society (KCCS) Core Banking Solution was inaugurated by Sri Kulamani Padhi (OCS-I), Deputy Registrar of Co-Operative Societies, Cuttack Division-II) in the presence of Sri Pramod Kumar Sahu (President, KCCS) , Smt....