News matching with tag "ICT in Districts"
Showing 1 to 5 of total 92 items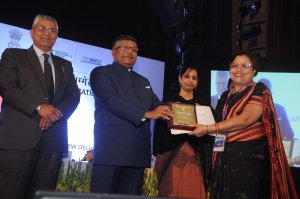 It was a proud moment for NIC, Koraput, Odisha to receive the award in the National DIO Meet for its exemplary achievement on digital payments campaign. DIO, Koraput, Smt. Sailabala Prusty, received the certificate of appreciation with memento from Honble Minister of IT & Comm. and Law & Justice Shri Ravi Shankar Prasad, in presence of Minister of State, Shri P. P. Choudhury, Secretary MeiTY, Smt Aruna Sunderrajan, IAS , and DG, NIC, Smt. Neeta Verma. Koraput
...
A. K. Hota, Odisha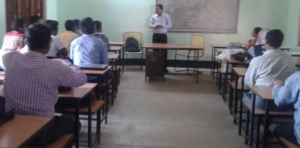 The training programme on "I.C.T. applications in Revenue administration" was organised by DIO, NIC, Sambalpur for Revenue Inspectors of different districts of northern Odisha at Revenue Inspectors Training Institute (R.I.T.I.), Larkank, Sambalpur. R.I.s are the grassroots level revenue officials and ICT knowledge is very much essential to deal with e-Governance applications used / to be used for revenue administration. To cater the e-Governance knowledge upgradation
...
A. K. Hota, Odisha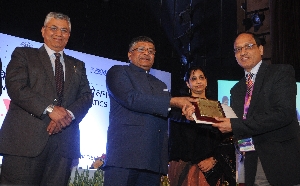 Shri Ravi Shankar Prasad, Honorable Union Minister for Information Technology, Law and Justice awarded the appreciation certificate and memento to Sh. Rakesh Kumar, District Informatics Officer, Bilaspur, NIC Himachal Pradesh, during the National Grassroot Informatics meet, on 19th January 2017 in New Delhi for his exemplary services towards Digial Payment initiatives. Sh. P.P. Chaudhary, Union Minister of State for IT, Law and Justice, Ms. Aruna Sundarajan, Secretary, MeitY, Dr. Ajay Kumar, Additional
...
Ajay Singh Chahal, Himachal Pradesh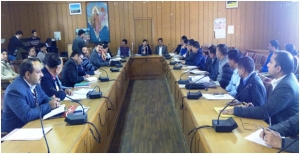 A half day eHimBhoomi awareness workshop was held at Solan on 15th November 2016 for the Revenue Officers of the District Solan. Sh. Rakesh Kanwar, the Deputy Commissioner, Solan had desired to hold a half day demonstration of the Integrated eHimBhoomi features, software, mobile apps for the Revenue Officers of the District Solan during their monthly meeting. Sh. Ajay Singh Chahal, SIO, Vimal Kumar Sharma, Scientist-D, Sh. Ashish Sharma, Scientist-B and Sh. Parveen Kumar, Scientist-B visited
...
Ajay Singh Chahal, Himachal Pradesh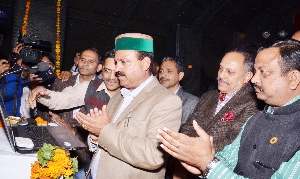 The official website of the District Rural Development Agency, Hamirpur, Himachal Pradesh has been launched by Sh. I D Lakhanpal, Honourable Chief Parliamentary Secretary (Rural Development), Government of Himachal Pradesh on 9th November 2016 in the Hamir Utasv, a State level fair, at District Headquarters. Sh. Madan Chauhan, IAS, Deputy Commissioner Hamirpur briefed the Chief guest and the audience about the features of the website and its content, which will help the DRDA as well as keep the
...
Ajay Singh Chahal, Himachal Pradesh
Search Online News