News matching with tag "ICT Initiatives"
Showing 1 to 5 of total 37 items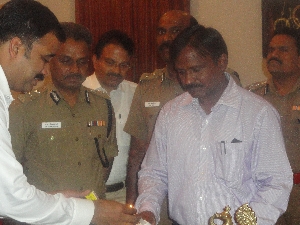 Immigration, Visa, Foreigners registration and Tracking (IVFRT) system was launched for Tamil nadu districts at Coimbatore on 22/04/2013. It is a Mission mode National e-Governance project of Govt. of India to provide the high standard of integrated Visa and Immigration services for the visiting foreigners to India and the Immigration services for citizen of India travelling abroad. With a brief note on IVFRT the welcome address was presented by Sh. R.Kuppusami, PSA, NIC-IVFRT, Chennai,
...
R.Gayatri, Tamil Nadu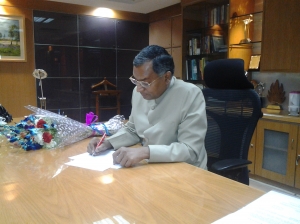 Shri M. Moni takes over as DG, NIC from 1st May 2013 Shri M Moni, took over the charge from Dr. Y.K. Sharma as the new Director General of NIC on 1st May 2013. In his maiden speech, he expressed his gratitude towards SIOs, DIOs, Informatics officers and all other NIC people for their sincere, exemplary contributions towards NIC. He stressed upon that every individual should be at the centre of excellence of its sphere of action. He underlined the importance of development and research in e-Governance
...
Alka Mishra, Delhi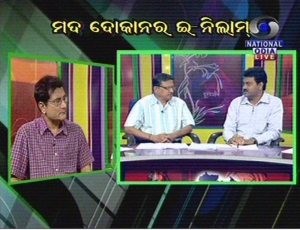 Government of Odisha has decided to issue licenses of IMFL (Indian Made Foreign Liquor) off shops and CS (Country Spirit) shops under Excise department through the process of eAuction for which NIC has been entrusted the responsibility to provide the software platform. As a part of the change management initiative the Live Phone-in programme has been telecasted in DD National (Odia) channel on 18th April 2013 from 5.02 pm to 5.30 pm. The objective of this programme was to enable the prospective
...
A. K. Hota, Odisha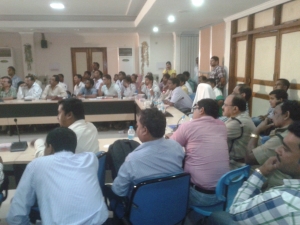 With the objective to allot the liquor shop licenses in a transparent manner and in the process bring in more revenue to the government exchequer, Excise Department, Government of Odisha is going to launch eAuction system recently. To this effect the government has issued new excise policy as well as notification highlighting the modalities of eAuction process. To create awareness among the prospective bidders newspaper advertisements have been published to suitably join the massive
...
A. K. Hota, Odisha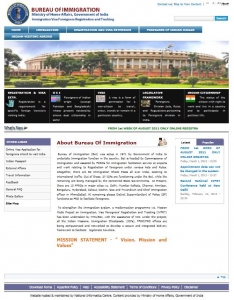 A web portal for the Bureau of Immigration (BoI) under Ministry of Home Affairs (MHA), Govt. of India (GoI) was launched on 10th April 2013 by Shri P. K. Bhardwaj, Joint Director (Immigration) in the presence of Shri V. Vumlunmang, Joint Secretary (Foreigners), MHA, GoI, Dr. R. K. Mishra, Technical Director, NIC, officials from MHA, NIC and other dignitaries. The salient features of the web portal were explained by Ms. M P Suganthi, Technical Director, NIC and Ms. Neeta Chauhan, Scientist-D, NIC.
...
N.K Prasad, Delhi
Search Online News