News matching with tag "Cyber Governance"
Showing 1 to 5 of total 233 items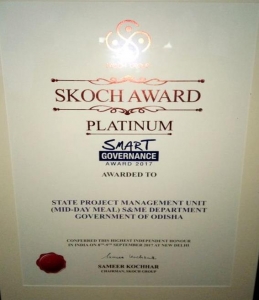 The SMS based monitoring system of Mid-Day Meal Programme of School and Mass Education Dept., Govt. of Odisha (URL : mdmodishasms.nic.in) developed by NIC Odisha State Centre has brought the glory to the state in the field of Information Technology (IT) by receiving the Skoch Smart Governance Awards (Platinum Award)-2017. The awards were conferred in a mega ceremony and conference at Constitution club of India, New Delhi on 8th - 9th September 2017. The Platinum Award for MDM programme
...
A. K. Hota, Odisha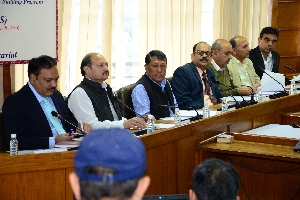 Sh. V.C. Pharka, Chief Secretary of Himachal Pradesh launched the World Bank Funded Project, HP Public Financial Management-Capacity Building Program, on 31st August 2017 at Shimla. Sh. Shrikant Baldi, Additional Chief Secretary Finance, Sh. Tanuj Mathur, Task Team Leader World Bank, Sh.Tarun Kapoor, ACS-Excise and Taxation, Sh. Jagdish Sharma, Principal Secretary IT, Sh. Kulwant Singh, Accountant General HP, Sh. Ajay Singh Chahal, SIO NIC HP and Sh. D.D. Sharma, Special Secretary Finance, World
...
Ajay Singh Chahal, Himachal Pradesh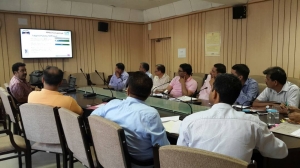 The NIC District Unit, Mandi organised two training-cum-Awareness Workshops at Deputy Commissioner office Mandi on Mobile Applications and web-enabled Vahan, Saarthi software on 7th and 8th of June 2017 in the NIC District Unit, Mandi at DC office. Sh. Akhilesh Bharti, DIO Mandi shared the details of various Mobile Apps developed by the NIC Competency Centre for Mobile Applications in the Monthly Revenue Officers meeting. Besides creating awareness about the already developed mobile app and
...
Ajay Singh Chahal, Himachal Pradesh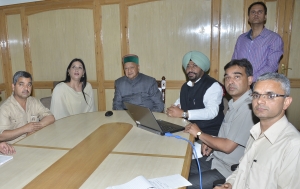 Sh. Virbhadra Singh, Honourable Chief Minister of Himachal Pradesh, inaugurated the website of the Himachal Pradesh Building and Other Construction Workers Welfare Board website at Shimla on 6th June 2017. Chairman of the Board, Bawa Hardeep Singh, Ms. Jyoti Rana, Secretary of the Board, Sh. Ajay Singh Chahal, State Informatics Officer, Sh. Sanjay Sharma, Technical Director, NIC and other officers of the Board were present during the launch ceremony. Honorable Chief Minister expressed the
...
Ajay Singh Chahal, Himachal Pradesh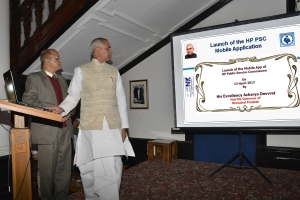 His Excellency, Acharaya Devvrat, Hon'ble Governor of Himachal Pradesh launched the Android based Mobile Application of the HP Public Service Commission on 13th April 2017 at Shimla. The Hon'ble Governor, in his speech, emphasized the importance of new technologies for the younger generation and they must be provided with more such ICT solution in their hands. He said that the Mobile App has special importance in a State like Himachal where road connectivity and postal reach is hampered
...
Ajay Singh Chahal, Himachal Pradesh
Search Online News