News matching with tag "Cyber Governance"
Showing 6 to 10 of total 73 items
This website has been launched by the Government of Jharkhand, to ensure healthy, educated & empowered children and to tackle the problem of child labour. The aim of this website is to carry out vulnerability mapping on a priority basis to identify the areas and trades which employ maximum children. The content rich and visually appealing website has been built with an aim to provide maximum accessibility and usability to its visitors by facilitating quick access to various schemes
...
Lokesh, Scientist-D, , Delhi(NCT)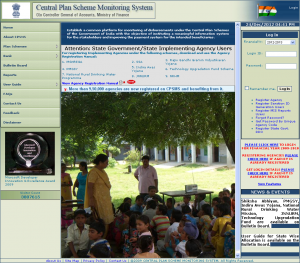 There are over a thousand Centrally Sponsored and Central Sector Schemes being implemented through different ministries of the Government of India. Given the diversity in implementation hierarchy, number of implementing units and the geographical reach of these schemes it has been a challenge to have meaningful information on these schemes. The need for a central monitoring, evaluation and accounting system for the Plan Schemes has been widely acknowledged and this site facilitates
...
Lokesh, Scientist-D, , Delhi(NCT)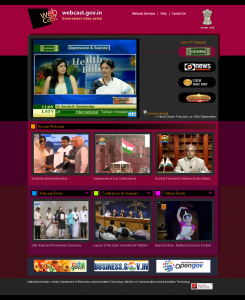 Webcast.gov.in is hosted and maintained by National Informatics Centre, Department of Electronics and Information Technology, Government of India. It webcasts International and National events of national interest, speeches made by President and Prime Minister, cultural programs, conferences and seminars. The Website with vibrant colour scheme and clean layout has links to four major live streaming channels viz. Lok Sabha, Doordarshan, Vyas UGC CEC and Rajya Sabha, placed in the top right
...
Lokesh, Scientist-D, , Delhi(NCT)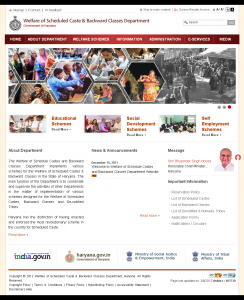 The Department of Welfare of Schedule Castes & Backward Classes coordinates and supervises the activities of other Departments in the matter of implementation of various schemes designed for the Welfare of Scheduled Castes, Backward Classes and De-notified Tribes. The website is rich and updated with information, categorized under impeccable navigation architecture. Wide coverage of welfare schemes with documents available for download helps users to seek and save desired information.
...
Lokesh, Scientist-D, , Delhi(NCT)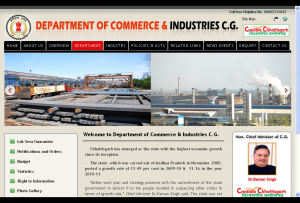 Major Responsibility of the Department of Commerce and Industry in state's all around development is to contribute to industrialization and trade promotion. The Department plays a catalytic role in establishment of micro, small, medium, mega and ultra mega projects, to create employment opportunities and to contribute to the development of all areas by increase in investment, trade and export. The website is full of relevant and updated information pertaining to policies, acts, events, annual
...
Lokesh, Scientist-D, Delhi(NCT)
Search Online News