Capacity Building workshops organised in two Tribal Districts under HP Public Finance Management System.
Ajay Singh Chahal, Himachal Pradesh
ajay[dot]chahal[at]nic[dot]in
|
Aug 30, 2017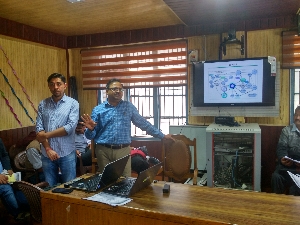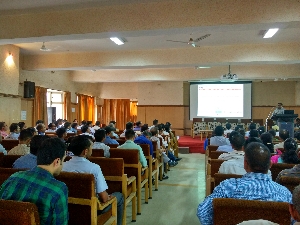 NIC Himachal Pradesh and Department of Treasury & Accounts jointly conducted four workshops under Himachal Pradesh Public Financial Management - Capacity Building Program. These workshops have been conducted for the DDOs of various departments posted at Reckong Peo, Kaza, Kelyong and Kullu. Five treasuries of District Kinnaur, three treasuries of Lahaul & Spiti, five treasuries of Kullu have been covered under this program. These workshops were conducted on 19th August at Reckong Peo (Kinnaur), 21st August at Kaza (Spiti), 23rd August at Keylong (Lahaul) and on 25th August at Kullu.
The objective of these workshops is to train and create awareness among the departmental DDOs towards complete paper-less implementation of the IFMIS solution developed by NIC Himachal Pradesh. Demonstration of eSalary, eVitran, ePension, eKosh, eChallan, HPOLTIS web applications and eBhugtan, myGpf , eSalary, eChallan, ePension mobile apps were given to DDOs during these workshops.
1.98 Lakh employees, 1.31 Lakh Pensioners, 4600 DDOs, 86 HODs, 0.62 Lakh NPS Employees and 103 Treasuries are the major stakeholders of IFMIS. IFMIS provide an online interface by inter-linking receipt & expenditure data generated at treasuries and release of allocated fund by FD, HODs to their field functionaries with the basic objective of improving the financial reporting System.
Basic objectives of these workshops were to train/re-train and aware DDOs about
How to use e-bills application to prepare salary, salary arrears, advance and previous salary, DA, other arrears, GPF sanctions and Tips and Tricks to be used.

eVitran, budget distribution system and its Usefulness.

eKosh - Financial reporting system , various  reports available so as to help DDOs.

eChallan, how to prepare challan online and offline.

ePension, pension paper generation through Manav Sampada and NPS system.

State Financial Position & Analysis based on financial data useful for planning in various sectors.

Mobile Apps Awareness and usefulness.

Problem/Queries solution and feedback.
The World Bank is providing the funding for these workshops under the H.P. Public Financial Management Capacity Building Program to improve the efficiency of Public Expenditure Management and Tax Administration in Himachal Pradesh.