Launching of e-Office for Odisha Mining Corporation, Collectorate Ganjam and District Forest Office, Baripada, Odisha
A. K. Hota, Odisha
ak[dot]hota[at]nic[dot]in
|
Feb 3, 2017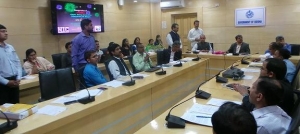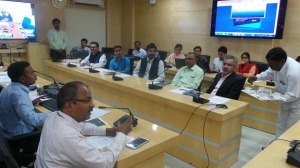 eOffice for Odisha Mining Corporation (OMC), Collectorate Ganjam and DFO Baripada were launched by Chief Secretary, Odisha Sri Aditya Prasad Padhi at 2nd Floor Conference Hall, Secretariat, Bhubaneswar on dt- 31.01.2017 by 6 PM.
Others present in the occasion include Sri R. Balakrishnan, IAS, Development Commissioner, Sri Ashok Meena, IAS, Special Secretary, GA Dept.,  Sri Sanjeev Chopra, IAS, Principal Secretary, Industries, Sri Sanjay Singh, IAS, Secretary, Skill Development, Sri R. S. Gopalan, IAS, Special Secretary and Executive Director, CMGI, Sri Vinil Krishna, IAS,MD, OMC, Sri Prem Chandra Choudhury, IAS, Collector, Ganjam, Sri Balwant Singh, IAS, Director, Industries, Sri B. K. Upadhaya, IAS, Director Fisheries, Sri Sanjay Swain, IFS, DFO -Baripda, Dr. R. N. Behera, Sr. Technical Director, NIC, Sri Pinaki Mohanty, Project Coordinator CMGI , eOffice, Sri Banapriya Prasad  Satpathy, Scientist-D, NIC Bhubaneswar.
Smt. Rachna Srivastava , STD, eOffice Co-ordinator, NIC, New Delhi and Sri Saroj Kumar Patro, SSA NIC New Delhi were present over Video Conferencing System.
NIC has developed the product e-Office with an aim to support e-governance by ushering in more effective and transparent inter and intra-Government processes. The vision of e-Office is to achieve a simplified, responsive, effective and transparent working of all Government offices. 
The Open Architecture, on which e-Office has been built, makes it a reusable framework and a standard reusable product amenable to replication across the governments, at the Central, State and District level. The product brings together the independent functions and systems under a single framework.
Main Features of eOffice include:
Open Architecture &Technology; Neutral
Common Data Sets and Standards
Role based access for authorization
Directory based authentication
Workflow manager
Open Standards & technologies based
Unicode Compliant - Support for local languages
Organization level common repository of user information for various services and applications.
The launching ceremony was coordinated by Dr. R N Behera, STD and Sri B. P. Satapathy, PSA. Smt. Rachna Srivastava, STD addressed over VC.
The implementation of e-Office in Odisha is successful under the guidance of Sri P. K. Pramanik, DDG & SIO, NIC, Odisha. The Chief Secretary has expressed his satisfaction over the progress of e-Office implementation in Odisha and thanked NIC and CMGI for providing necessary support.