NIC Initiatives Impress US Prez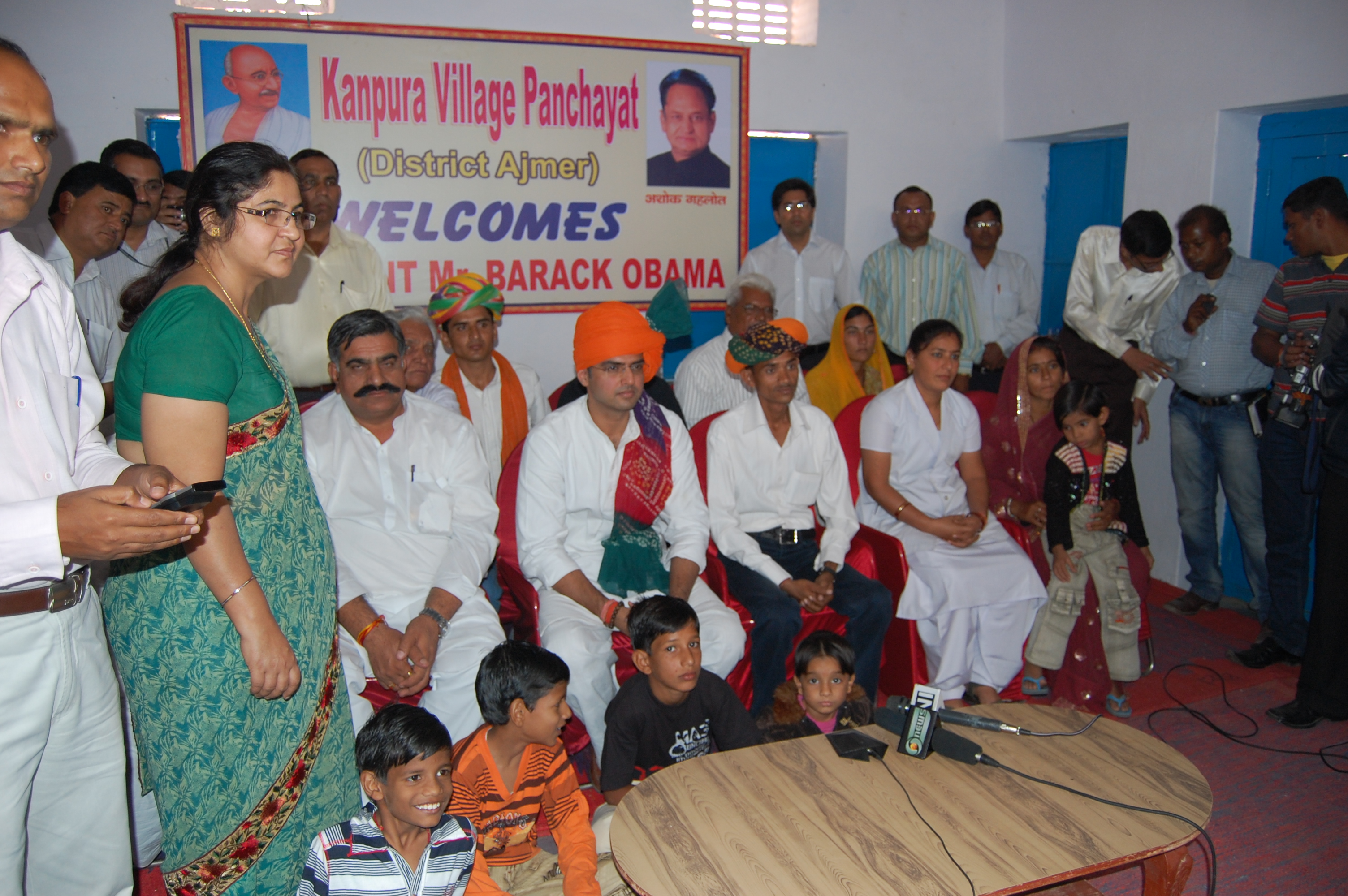 NIC Initiatives Impress US President
GPNIC has been developed to facilitate the Panchayat offices by providing various online services. Ten gram panchayats of Srinagar block (Ajmer) ,Rajasthan were selected on a pilot basis .BSNL had provided optical fiber based connectivity. NIC took the lead in selecting and providing the software for E-governance applications especially G2C ones.. NIC also developed a portal to facilitate all the services and provided an email ID to all the ten panchayats. Website has also been developed for them for registering their web presence. A series of capacity building training were also organized .
A Special Event : On the 7th November' 2010, the President of United States of America , Mr. Barack Obama interacted with the residents at Kanpura GP through NIC's Video conferencing facility. Obama stationed at St. Xaviers College, Mumbai looked happy on his interaction and took a feedback on the e-governance initiatives. Hon'ble Sachin Pilot, was also present along with the residents of the place. The event was a feather in the crown of NIC Rajasthan.
"This is a Good News, In the US we are trying to do the same things you do. Trying to make government more transparent, trying to make government more accountable, trying to make government more efficient. I want to Congratulate all of you for doing this terrific work. I look forward to watching this terrific experiment continuing to expand throughout India. You will be the model for the countries around the world.."
MR. BARRACK OBAMA , President of United States of America .
" Our goal is to really democratise information at all levels. We want to provide broadband connectivity to villages for education, open government, transparency, accountability all of the right things we do for democracy. This is all about giving power to people and giving them public services at there doorstep it will simplify their lives they will not have to go run around with the govt. trying to get information it will be good for their children. Parents will be able to get information on their pensions, their salaries, schools, health, Jobs. Today if you want to get your Land records, it is a very complicated job. Now you can do it on internet."- Sam Pitroda
Kudos to the team of NIC Rajasthan :
Led by SIO Rajasthan Smt. Indu Gupta ,the Video conferencing systems were setup at Panchayat office, Kanpura for the event. The prez was briefed about the project by hon'ble Sam Pitroda, Chairman, National Knowledge Commission. The rural crowd present outside the Panchayat office greeted the US President through the video camera connected for outside view. Previously on the 15th September' 2010, a thirteen member high level delegation from US led by Aneesh Chopra, White House Chief Technology Officer ,Alec Ross, Advisor to the Secretary of State for Innovation, under INDIA-US Innovation Exchange Forum visited Kanpura and were highly impressed with the facilities.


Submitted By:
Chandan Sen, Rajasthan
|
chandan [dot] sen [at] nic [dot] in
Search Online News