Skoch Order of Merit Awards 2016 to ELBSoft, NIC, Odisha
A. K. Hota, Odisha
ak[dot]hota[at]nic[dot]in
|
Sep 29, 2016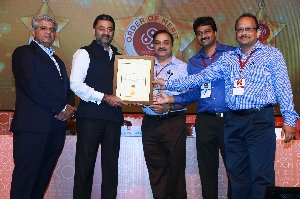 Functional areas of Electrical Licensing Board, Department of Energy,  Government of Odisha, have been studied to provide e-governance oriented services to various sections concerned for management of Contractor, Supervisor, Workman / Wireman / Lineman licenses, project Licenses etc. Till date 90956 numbers of licenses have been processed.
Online License Examination Application System has been implemented to enable applicants submit application online, digitally cross check the validity of the applications and scrutinize them, Examination centre Allotment, Admit Card Generation and publishing result transparently over the portal. SMS has been integrated at various transactional points.
Supervisor License passbook printing system has been introduced with Front Page Printing which includes License number, details of licensee, Printing of Renewal details, Issue of Duplicate license book / New Volume etc.
Appreciating the effort of NIC, Shri Rajesh Verma, IAS, Principal Secretary, Department of Energy, and Er. S. S. Pati, EIC (Electricity)-cum-PCEI wished that steps may be taken to  productize the project  for horizontal transfer.
Congratulating the team Shri Pradeep Kumar Jena, IAS, Principal Secretary, Electronics & Information Technology Department, added that due to this initiative 100% e-challan system has been implemented in the O/O EIC (Electricity)-cum-PCEI, Government of Odisha.