Digital India Campaign in Gajapati District, Odisha
A. K. Hota, Odisha
ak[dot]hota[at]nic[dot]in
|
Sep 23, 2016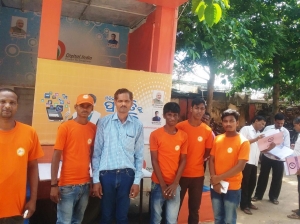 Under the Digital India Program of Government of India, several products / services have been provided by Centre & State Governments in the last two years to make governance more citizen-centric and enhance transparency & efficiency in service delivery.
As per the D.O. No-21/11/2015-NeGD Dated 6-5-2016 issued by the Secretary, DeitY, GoI to the Chief Secretary of Odisha and urged to utilise this campaign. To convey the message of the transformative initiative, and to create awareness  about various services / products along with the delivery channels, an outreach campaign has been planned to reach out citizens at District, Sub-Division, Panchayat and Village level.  The outreach campaign is a van based mobile display / exhibition unit with audio visual, IEC material and trained resource persons moved to the different parts of the district.
In view of the Jagaran Team visit to the district on Digital India Campaign, suitable route chart was planned keeping availability of operational CSCs or College /High School / Market Place/ Gram Panchayats etc. in view, to increase uptake of citizen centric services in the district.  As Gajapati, the tribal dominated left-wing extremism district has rugged forests, mountainous terrain of Eastern Ghats rocks with intermountain valleys, District Administration / BDOs / Tahasildars / DeGS Coordinator etc. were also involved in finalising the route chart.  
Jagran solutions team, Bhubaneswar, started the campaign in the district from 17th August 2016 and completed the task on 4th Sep' 2016 by covering 34 locations across 7 blocks.
Participating in the Digital India Campaign held around the district headquarters, Shri T. Balakrishna Murty, DIO, NIC Gajapati addressed to the students at MR Boys High School, Paralakhemundi on Digital India Program.
T. Balakrishna Murty, DIO, NIC Gajapati, Odisha