Aligarh - stepping forward to welcome the new technology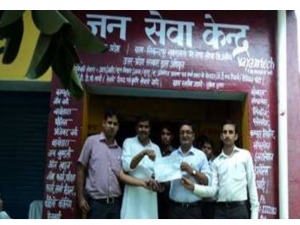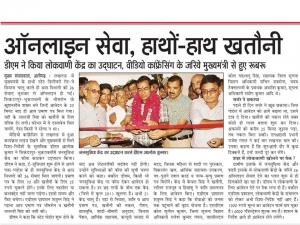 The most awaited 26 eServices were made available to common man from 1st August 2012 in Uttar Pradesh. This citizen centric project is aimed to improve the government service delivery and reduce the harassment of rural masses. In Aligarh, the project was inaugurated by District Magistrate Shri Alok Kumar and ADM Shri Shatrughan Singh. Shri Rajesh Gangal, District Information Officer and Shri Sachin Saxena, Scientific Officer were also present during the inauguration. Shri Alok Kumar in his inaugural address stated that no hindrances in the delivery of the services will be tolerated by the district administration. He also asked the officials to be prompt in handling the applications received within the stipulated time frame. The project was welcomed with great joy and pomp by the public.
The eServices project enables the citizen to apply electronically for all the 26 government services of eight line departments at nearest Common Service Centres (CSCs). As soon as the application is submitted electronically the citizen is issued an acknowledgement slip with the expected date of delivery and a unique Application Reference Number which can be used for tracking the status of application on the Internet till the certificate or service is finally delivered to the citizen. Once the certificate is issued through the system it can be verified through the portal.
The complete service delivery mechanism is based on the PPP model and the citizen has to pay a small token amount at the CSC in order to avail the services. The aim of the project is to provide quick and efficient services to the citizens. The inauguration was widely covered by the press and electronic media.
Submitted By:
Anshu Rohatgi, Uttar Pradesh
|
anshu [dot] rohatgi [at] nic [dot] in
Search Online News