Workshop and training session held at Maharajgunj, Uttar Pradesh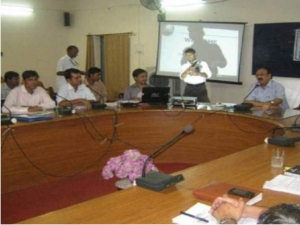 A workshop cum training session conducted/held at Maharajgunj on 20th July 2012 in the presence of district magistrate Shri Sachidanand Dubey. The training was aimed to introduce the government officials and employees to the new working environment. District Information Officer, Maharajgunj Shri Sanjeev Kumar and Co-trainer Shri Yogesh Shukla demonstrated the outlines and functions of digital signature to the participants at the workshop.
The project seeks to replace the manual working system by automatic electronic processes. The government has selected 26 services of eight departments that will be available online to the citizens. Common man can easily get access to these services from the Common Service Centres (CSCs). They can apply for these services at the designated CSC or Lokvani Centres and receive certificates from the same location. As per the guidelines of Government of India one CSC will be set up for every six villages. Birth, Death, Income, Caste, Domicile Certificates and Pension etc. services have been covered under the project in the initial phase.
Along with DM Maharajgunj other district officials also attended the workshop.
Submitted By:
Anshu Rohatgi, Uttar Pradesh
|
anshu [dot] rohatgi [at] nic [dot] in
Search Online News