Training at Mirzapur, Uttar Pradesh on eForms and Digital Signatures.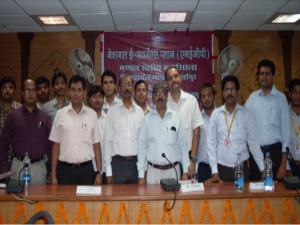 A one day workshop on state portal, SSDG and eForms was conducted in Mirzapur on 18th July 2012, Additional Commissioner of Vindhyachal Division, Shri Heera Lal was the chief guest at the workshop.The objective of the workshop was to impart training to the Government officials and employees about the new electronic work flow that will replace the manual system of service delivery with the electronic system. Demonstration was also given on digital signature to the participants by District Information Officer Shri R.P Singh during the workshop.
After the launch of state portal, SSDG and eForms on 1st August 2012, the 26 defined government services will be available to the people through Common service Centres (CSCs). These service centres will facilitate the citizens to download forms and apply for the 26 defined services electronically. The selected services in the first phase include birth, death, income, caste & domicile certificates, pension, ration card, employment registration and social welfare schemes. This project seeks to revolutionize the work flow of government department.
Submitted By:
Anshu Rohatgi, Uttar Pradesh
|
anshu [dot] rohatgi [at] nic [dot] in
Search Online News