Training on eForms and Digital Signature at JP Nagar (Amroha), Uttar Pradesh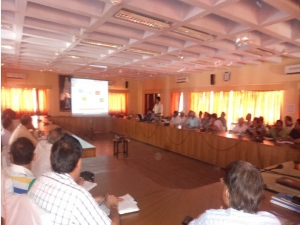 Training on eForms & Digital Signatures under the State Portal, SSDG & eForms project was imparted to the government officials and employees in the workshop conducted at JP Nagar on 19th July 2012. The workshop was inaugurated ADM JP Nagar, Shri Manoj Kumar, and Joint Development Officer Shri R.K. Yadav. The aim behind conducting the workshop was to demonstrate the usage, functions and guidelines of digital signature to the district level officials and employees. District Information Officer, NIC Shri Nalin Kaushik explained all features of eForms and DSC based approvals and rejections to the participants.
26 government defined services will be available online to the public from the Common Services Centres, being established in villages under the National eGovernance Plan (NeGP). The project will speed up the procedure of filing of application forms and delivering of certificates by government bodies. All sorts of certificates for example birth, death, residential, domicile, caste, pension, age and income etc. that come under the 26 defined government services will be delivered from the CSC/Lokvani Centres.
Along with ADM other senior district officials were also present at the workshop.
Submitted By:
Anshu Rohatgi, Uttar Pradesh
|
anshu [dot] rohatgi [at] nic [dot] in
Search Online News