Vahan and Sarathi for Transport Computerisation Project Launched in Nagaland
Kemvu Elah, Nagaland
elah[at]nic[dot]in
|
Jul 17, 2009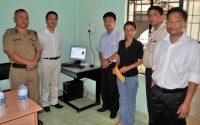 With the successful implementation of Vahan and Sarathi software at the Regional Transport Office, Kohima, the project has been rolled out in another three District Transport Offices in Nagaland.

Vahan and Sarathi is for registration and licensing policy to help the citizens and also to help the investigating agency to check misuse and forgery of documents and signatures by interstate vehicle racketeers. Vahan module helps the Department of Transport in processing all the transactions related to vehicles registration while Sarathi module is for processing driving license and related activities.

The software is developed by the National Informatics Centre (NIC). This e-Governance project introduced a transformation in the state Transport department with systematic and efficient processes in the workflow of the department.

The District Transport Authority of Dimapur launched Vahan and Sarathi at District Transport Office on June 16, 2009. Deputy Commissioner, Dimapur Maongwati Aier while speaking as the chief guest thanked the District Transport Officer and NIC officials for coming together and taking up a noble venture. He expressed optimism that the objective could be achieved for helping the citizens to easily access registrations of their vehicles and maintain transparency in dealing with misuse and forgery of signatures besides stopping duplication of registration certificates and licenses. SP Dimapur, Liremo Lotha and Er. Vikishe Sema Scientist-D share their view during the launched function.

The launching function of Vahan and Sarathi programe at Regional Transport Office Mokokchung was held on June 23, 2009 with Deputy Commissioner Mokokchung, C.M. Tsanglao as the Chief Guest. Speaking on the occasion, the Chief Guest said, "As we are living in a sophisticated world endowed with faster and better communication services we should be capable and efficient enough to take full advantage of the technology and also to guard ourselves from its misuse." Shri Irshad Wali, IPS, S.P Mokokchung and Er. Temsuwathi Ao, DIO, NIC Mokokchung also spoke on the occasion.

On July 3rd, 2009, Sarathi and Vahan were launched at District Transport Office (DTO), Mon by SDO (Civil) Mon Sadar, Hiazu Meru. Addressing the gathering SDO (Civil) called upon the staff of DTO office Mon to discharge their assigned duties and responsibilities sincerely with the new technology system availed in the office for the welfare of the public. He said the purpose of launching Sarathi and Vahan by the government was to maintain transparency and responsibility in the working system of the government department. He expressed hope that with the new input of technology the working system of the department would improve and challenged the staff to earn good reputation and respect for the district. He also appreciated the well maintained office of the DTO Mon.

Er. Lanusungkum Aier, PSA, NIC, Nagaland State Centre, Kohima, the project coordinator explained the technical expects of the project in all the launched functions and imparted training to the employees of these transport offices.