Showing 21 to 30 of total 418 items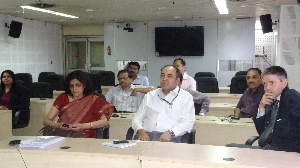 As a novel initiative, Government of Odisha has decided to issue licenses to IMFL off shops and CS shops under Excise department through eAuction. NIC has been entrusted the job to develop the platform for eAuction. A core team comprising officers from Excise Department, Project OMEGA (Odisha Modernizing Economy, Government and Administration), NIC , and SPC(State Procurement Cell) has been formed and the team has been deliberating on modalities of eAuction process through several
...
A. K. Hota, Odisha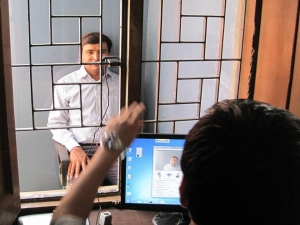 The Smart card based driving license (SCDL) system was launched in Muzaffarnagar, Uttar Pradesh on 9th April 2013 by District Magistrate Shri Surendra Singh, IAS. The first SCDL of the district was issued to the DM by the Asst. Regional Transport Officer Shri Jaishanjar Tiwari after completion of the required formalities such as bio-metric scanning of thumbs, digital signature and digital photograph of the applicant. Senior officials of the district administration - Shri Rajesh Srivastava (ADM-FR),
...
Anshu Rohatgi, Uttar Pradesh
INTRA-IPS (http://intraips.gov.in) official website has been launched by Shri S. Jayaraman, Special Secretary-Internal Security, Ministry of Home Affairs, at New Delhi on 8th April 2013. This exclusive website for Indian Police Service (IPS) officers will help them to access all matters concerning their 'service' from anywhere in the country. The website has been designed, developed and hosted by National Informatics Centre, North Block, MHA, New Delhi under the leadership of Ms. Suganthi
...
N.K Prasad, Delhi
Days have gone when people had to make multiple visits to the municipal corporation offices for applying and receiving birth or death certificates. Lots of time & money had to be spent by the citizens for obtaining these government services. However, the scenario changed in the state with the launch of State Portal & eForms project on 1st August 2012. Under the project 26 services of 8 line departments are made available to the citizens through Common Service Centres (CSC) & Lokvani
...
Anshu Rohatgi, Uttar Pradesh
A presentation ceremony was organized on 17th March 2013 at Ibrahim Nasir International Airport, Male, Maldives on the handing over of Advance Passenger Information System (APIS) of National Informatics Centre (NIC) to Republic of Maldives by Government of India. In the ceremony, APIS Module of IVFRT-MMP was presented to Dr. Mohamed Ali, Controller of Immigration & Emigration, Maldives by H.E. D. M. Mulay, Indian High Commissioner, Maldives. Speaking on the occasion Dr. Ali said that Maldives
...
N.K Prasad, Delhi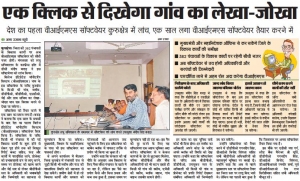 Kurukshetra has become the first district to launch the Village Integrated Monitoring Software (VIMS) to bring transparency to development works being undertaken at the village level. On this event, Sh. Mandip Singh Brar, Deputy Commissioner informed that details of all undertaken works, funds utilization and other things, from beginning to completion, would be available instantaneously to this site. VIMS has been developed by NIC Kurukshetra. This software is designed with the motive
...
Poonam Gupta, Haryana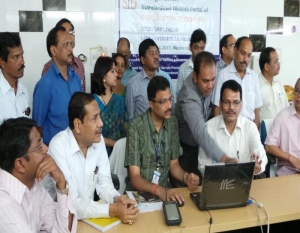 The Standardised District Portal of Puri District (http://puri.nic.in ) was inaugurated by Dr. Arabinda Padhee, IAS, RDC(CD) on Dt-20.03.2013 at NIC Puri in a function organized in the Video Conference Hall, Collectorate Building in presence of Sri Naba Kumar Nayak, Collector & DM, SP, ADM, PD, DRDA, Puri. Speaking on the occasion Dr Padhee expressed that the standardized portal is having a common look and feel , can facilitate common citizen to get various citizen centric services
...
A. K. Hota, Odisha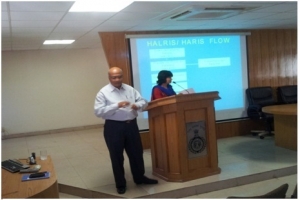 A Workshop cum training Programme was conducted for SDMs, DROs, Tehsildars, Naib Tehsildars & Junior Programmers of all Tehsils of District Gurgaon on 15th March. A presentation was made to apprise the officials about various steps involved in the process of integration of Land Records & Property Registration data through HALRIS/HARIS. Intense discussions were held to resolve issues that need attention to sustain the on-line status of villages post-integration.
Poonam Gupta, Haryana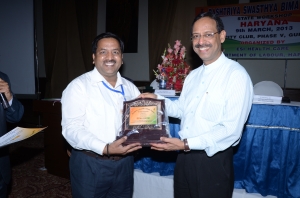 DIO YamunaNagar Sh. Ramesh Gupta received best DKMA Award for Rashtriya Swasthya Bima Yojna (RSBY) in the 5th State level RSBY workshop held on 9th march 2013 at Gurgaon DLF Phase V. In the year 2012-2013 in rural area enrolment for smart card is about 70 % which is top in Haryana and urban area enrolment is under progress.
Poonam Gupta, Haryana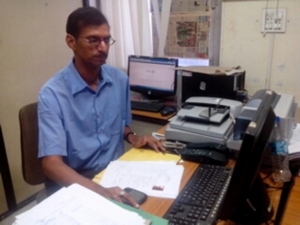 NIC-RA was setup in Uttar Pradesh in the year 2009 with the launch of e-Procurement & e-District system in the state. Various state government departments like PWD, Electronics & IT, Irrigation etc. started using the e-Procurement system which required Digital Signatures as authentication mechanism. As the project got wider acceptance the requirement of DSC extended to central government departments like Railway, Defence, CBI, Post and Telegraph and public sector undertakings like Hindustan
...
Anshu Rohatgi, Uttar Pradesh
Search Online News