Governance
Showing 11 to 15 of total 136 records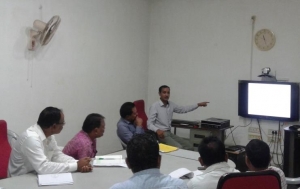 A. K. Hota, Odisha
ak[dot]hota[at]nic[dot]in
|
Aug 3, 2017
Training on Bhunaksha was organised at NIC, Balangir for all 14 Tahasils of Balangir District, Sub-division wise. The schedule was as follows: 05.07.2017 & 06.07.2017 - Balangir Sub-Division (6 Tahasils) 13.07.2017 & 14.07.2017 - ...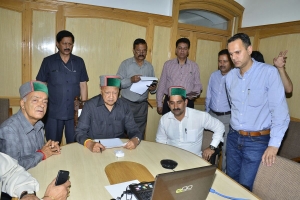 Ajay Singh Chahal, Himachal Pradesh
ajay[dot]chahal[at]nic[dot]in
|
Aug 2, 2017
Sh. Virbhadra Singh, Hon'ble Chief Minister, Himachal Pradesh inaugurated various projects in District Kangra on 29th July 2017 through Video Conferencing from HP Secretariat. The Chief Minister could not travel to Kangra due to bad weather condition. The concerned Ministers, Deputy Commissioner...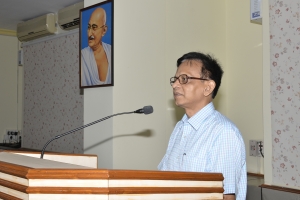 A. K. Hota, Odisha
ak[dot]hota[at]nic[dot]in
|
Jul 21, 2017
Government of Odisha in collaboration with the Reserve Bank of India organized a workshop on "Digital Payment in Government" on 17/07/2017 at Madhusudan Das Regional Academy of Financial Management, Bhubaneswar. The day long workshop was attended by officers from Odisha Financial Service...
Moiz Hussain, Maharashtra
hussain[at]nic[dot]in
|
Jul 12, 2017
Hon. Chief Minister of Maharashtra launched http://mahapar.maharashtra.gov.in web application at Vidhan Bhawan on 11/07/2017 and appreciated the work of NIC Maharashtra for successful implementation. Additional Chief Secretary(Services),Govt of Maharashtra, have acknowledged the excellent support...
Deepak Sawant, Haryana
sawant[dot]deepak[at]nic[dot]in
|
Jun 30, 2017
The Government of Haryana has decided to create a single source of resident data through a unified State Resident Database (SRDB), where the Aadhaar based eKYC enabled survey should be conducted by using Android Tabs – 'The Jan Seva Survey' (JSS). This would be an extensive exercise...