e-Tender
Showing 26 to 30 of total 31 records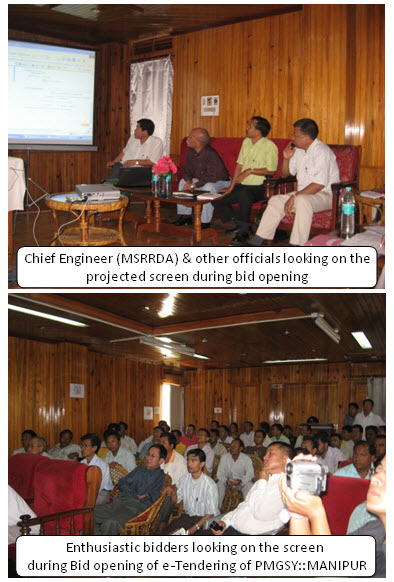 M. Budhimala Devi, Manipur
bmala[at]nic[dot]in
|
May 21, 2010
Bid opening for PMGSY Manipur has been completed on 18/5/2010 in the presence of large number of enthusiastic officials and bidders. It took 2 days to open and show bid opening process including reading of scan files and showing in the projection screen for 562 bids for 69 packages. Altogether...
RAJESH BAHADUR, MD NICSI
|
April 2015
Procurement involves an understanding of objective, stakeholders, and deliverables. It includes fixing of resources, formation of Request of Proposals (RFP), bidding & evaluation process, choosing the vendor within required timeline.
K. SRINIVASA RAGHAVAN, M. MANIVANNAN
|
April 2011
Procurement is the complete process of acquisition of goods, works or services at the best possible total cost, in the right quality and quantity, at the right time, in the right place and from the right source for the direct benefit or use of Corporations, Individuals, or Governments. In...
M.BUDDHIMALA MOIRANGTHEM
|
January 2011
Procurement delays, unfair bidding practices, opaqueness in government processes, etc. have become things of the past with the deployment of Government e-Procurement System of NIC (GePNIC) in Manipur. The system provides transparency in the tendering process, reduces time for procurement,...
Sh. Pradipta Kumar Mohapatra
|
October 2009
An Exclusive Interview with Sh. Pradipta Kumar Mohapatra, IAS, IT Secretary, Govt. of Orissa on successful completion of one year of Implementation of NIC-GeP in Orissa