ICT in Districts
Showing 11 to 15 of total 130 records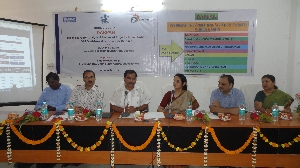 A. K. Hota, Odisha
ak[dot]hota[at]nic[dot]in
|
Mar 14, 2018
The DM-Dashboard was launched at Bhadrak district of Odisha on 6th March 2018. District Collector Shri Gyan Das, IAS, launched the dashboard in the presence of all senior officers from district and representatives of media. Sri Bijoy Mishra, DIO, Bhadrak welcoming all dignitaries informed...
A. K. Hota, Odisha
ak[dot]hota[at]nic[dot]in
|
Mar 14, 2018
The DARPAN (Dashboard for Analytical Review of Projects Across Nation) portal customized as DM-Dashboard of Cuttack district was inaugurated by Shri Susanta Mohapatra, IAS, Collector and District Magistrate, Cuttack in presence of Smt. Pratibha Singh, State Informatics Officer (SIO), NIC,...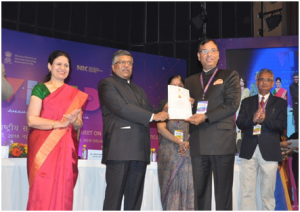 Deepak Sawant, Haryana
sawant[dot]deepak[at]nic[dot]in
|
Feb 15, 2018
NIC Innovation Challenges -2018 (DIO Meet -2018 on Grass Root Informatics) Gold Award To Mahendra Pal Kulshreshtha (District Informatics Officer) NIC - Hisar (Haryana) (Under Mobile Application Innovation category) National level DIO meet on Grass...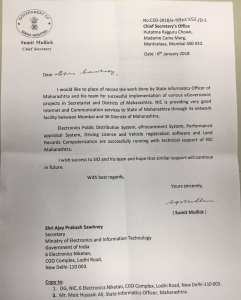 Moiz Hussain, Maharashtra
hussain[at]nic[dot]in
|
Jan 9, 2018
Hon. Chief Secretary of Maharashtra has appreciated the technical services of NIC Maharashtra for implementation of various eGovernance projects in Maharashtra State. He has acknowledged the technical services of NIC for implementation of Electronics Public Distribution system, e Procurement, Performance...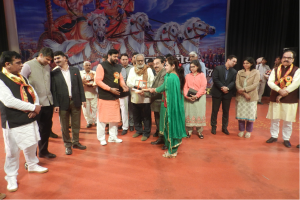 Deepak Sawant, Haryana
sawant[dot]deepak[at]nic[dot]in
|
Dec 7, 2017
International Geeta Jayanti Mahotsav 2017 was celebrated in Ch. Devi Lal University, Sirsa (Haryana) w.e.f. 28.11.2017 to 30.11.2017. Sh. Naib Singh Saini, State Minister of Labour & Employment Haryana, Dr. Vijay Kumar Kayat, Vice Chancellor CDLU and Dr. Munish Nagpal, Addl. Deputy Commissioner...