ICT in Districts
Showing 1 to 5 of total 128 records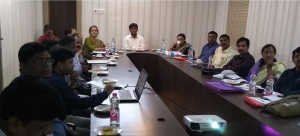 A. K. Hota, Odisha
ak[dot]hota[at]nic[dot]in
|
Aug 2, 2018
Deputy Director General & State Informatics Officer Smt Pratibha Singh along with Dr. A. K. Hota, STD & ASIO visited Koraput district NIC Centre and reviewed the implementation of various projects in the district. She interacted with FMS personnel and looked into infrastructure availability...

A. K. Hota, Odisha
ak[dot]hota[at]nic[dot]in
|
Aug 2, 2018
The Start-up programme of Kendrapara Credit Co-operative Society (KCCS) Core Banking Solution was inaugurated by Sri Kulamani Padhi (OCS-I), Deputy Registrar of Co-Operative Societies, Cuttack Division-II) in the presence of Sri Pramod Kumar Sahu (President, KCCS) , Smt....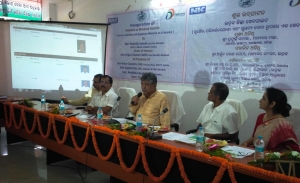 A. K. Hota, Odisha
ak[dot]hota[at]nic[dot]in
|
May 17, 2018
Bilingual website of Bhadrak District (Secure, Scalable and Sugamya Website as a Service) was inaugurated by Sri Prafulla Samal, Hon'ble Minister, SSEPD, W&CD, MS&ME, Odisha on 10th May, 2018 in the august presence of Sri Niten Chandra, IAS, Principal Secretary, SSEPD, Smt. Pratibha...
Ajay Singh Chahal, Himachal Pradesh
ajay[dot]chahal[at]nic[dot]in
|
May 8, 2018
Sh. Jai Ram Thakur, Hon'ble Chief Minister of Himachal Pradesh launched the newly developed website of District Kullu on S3WAAS platform and the iOS (Apple) based mobile app of Rohtang Pass Permits at a function in Manali, District Kullu. The website has been redeveloped as part of NIC's...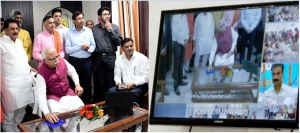 Deepak Sawant, Haryana
sawant[dot]deepak[at]nic[dot]in
|
Apr 30, 2018
Aligning with vision of Hon'ble CM to ensure smooth and trouble free delivery of schemes to the Antyodaya (Rise of the last person) population, NIC Haryana, using ServicePlus framework, developed 181 schemes of 14 departments online along with backend process flow for...