Online Conference
Showing 1 to 5 of total 11 records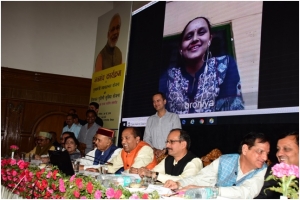 Sandeep Sood, Himachal Pradesh
sood[dot]sandeep[at]nic[dot]in
|
Jun 5, 2018
Sh. Jai Ram Thakur, Hon'ble Chief Minister of Himachal Pradesh launched a new program "Jan-Manch" on 26th May 2018. The program aims to provide various services to common citizen at the field level by organising monthly camps in remote areas. The officers of concerned District from various...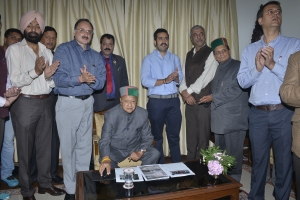 Sandeep Sood, Himachal Pradesh
sood[dot]sandeep[at]nic[dot]in
|
Jul 12, 2017
To facilitate the visitors and providing recreational facilities to the children, Chief Minister Shri Virbhadra Singh inaugurated the 'Water Park' at Sadhupul, besides other two upgraded way-side amenities of tourism department at Bhararighat in Solan district and at Sombhadra in district...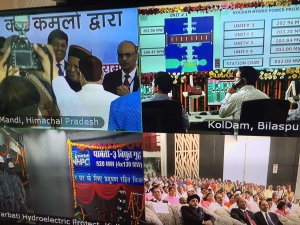 Sandeep Sood, Himachal Pradesh
sood[dot]sandeep[at]nic[dot]in
|
Oct 18, 2016
Sh. Narinder Modi, Honorable Prime Minister of India dedicated three power projects to the nation from Mandi, Himachal Pradesh using National Informatics Centre, Video Conferencing facility at 11:30AM on 18th of October 2016. The three power projects are NTPC's Koldam – 800MW, NHPC's...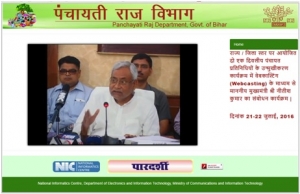 Rajiv Ranjan, Bihar
rajiv[dot]ranjan[at]nic[dot]in
|
Jul 29, 2016
Two one-day Orientation Programme for newly elected 3-tier Panchayat Representatives were conducted on 21st and 22nd July 2016 at State / District level by Panchayati Raj Department, Govt. of Bihar. Shri Nitish Kumar, Hon'ble Chief Minister of Bihar addressed the Panchayat Representatives both...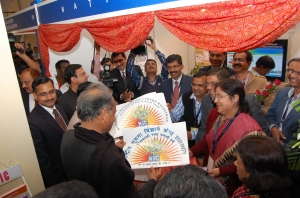 Chandan Sen, Rajasthan
chandan[dot]sen[at]nic[dot]in
|
Mar 7, 2013
National Informatics Centre SHINES AT THE 16th NATIONAL CONFERENCE ON E-GOVERNANCE (NCEG) (11th-12th Feb. 2013) AT JAIPUR RAJASTHAN The 16th National Conference on E-Governance was held at Birla Auditorium from the 11th-12th Feb. 2013 at pink...