Awards
Showing 6 to 10 of total 133 records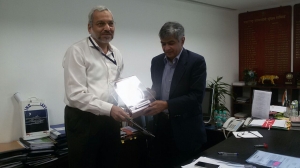 Moiz Hussain, Maharashtra
hussain[at]nic[dot]in
|
Jan 9, 2018
Maharashtra State is awarded Best Performance Award for successful implementation of eProcurement software. The felicitation function was held in a workshop held at New Delhi on 4th Jan.2018. The function was attended by the Under Secretary of Government of Maharashtra and coordinators from NIC...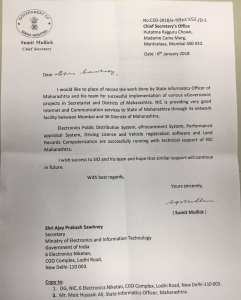 Moiz Hussain, Maharashtra
hussain[at]nic[dot]in
|
Jan 9, 2018
Hon. Chief Secretary of Maharashtra has appreciated the technical services of NIC Maharashtra for implementation of various eGovernance projects in Maharashtra State. He has acknowledged the technical services of NIC for implementation of Electronics Public Distribution system, e Procurement, Performance...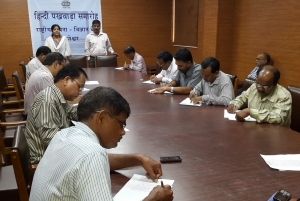 A. K. Hota, Odisha
ak[dot]hota[at]nic[dot]in
|
Oct 30, 2017
As part of 'Hindi Day' observation, NIC Odisha celebrated Hindi Pakhwara (Fortnight) with effect from 14th September. In order to promote Hindi among the officials, Hindi competitions namely Hindi writing, Sulekh, poem recitation and debate competitions were organized. Hindi writing...
Ajay Singh Chahal, Himachal Pradesh
ajay[dot]chahal[at]nic[dot]in
|
Oct 5, 2017
His Excellency Acharya Devrat, the Hon'ble Governor of Himachal Pradesh honoured five officers of NIC Himachal Pradesh on 30th September 2017 in the International Dasehra Festival at Kullu for their contribution in developing the Online Rohtang Pass Permits software which has been implemented...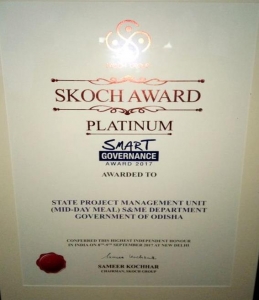 A. K. Hota, Odisha
ak[dot]hota[at]nic[dot]in
|
Sep 18, 2017
The SMS based monitoring system of Mid-Day Meal Programme of School and Mass Education Dept., Govt. of Odisha (URL : mdmodishasms.nic.in) developed by NIC Odisha State Centre has brought the glory to the state in the field of Information Technology (IT) by receiving the Skoch Smart Governance...